To celebrate Homotopia's This Arab is Queer event in Liverpool on Wednesday 16 November, we are pleased to be releasing a series of digital micro-commissions by writers featured in this groundbreaking anthology.
Our first micro-commission is a new text by Anbara Salam, who will be in Liverpool next week, reflecting on how the idea of performance is explored within the collection:
Anbara Salam
Performance Anxiety
This Arab is Queer is a groundbreaking anthology of essays about the queer Arab experience, in the SWANA region and in the diaspora. The diverse pieces in the anthology allow queer Arabs to tell our stories in our own terms, providing unmediated insight into the lives of LGBTQ+ Arabs, including viewpoints that are not usually available to those outside the community. These include for example, Khalid Abdel-Hadi, the editor and founder of My Kali, the first queer digital magazine in the Arab world, who writes about the fallout from having his personal life exposed by the Jordanian press. Amina (writing under a pseudonym), a first-person witness at the events that precipitated the tragic death of Sarah Hegazy, describes the impact on the queer Egyptian community.
While the essays in the anthology span a range of experiences, reading the collection feels like walking between a series of interlocking rooms; each is unique but connected. The doors between these rooms are so often left shut, partly because queer spaces in SWANA have to be closed spaces to protect their communities, who are at risk of legal and social harm. But the doors are also often closed between these rooms because the experiences of queer Arabs are so varied that the struggles, celebrations and joys are distinct from each other across communities and cultures, performed in different ways under different conditions.
One of the striking aspects of this collection is how much the essays explore the idea of performance. Performance as a sense of artifice and camouflage, but also performance as a means of transformation, where imagination, re-iteration and re-interpretation provide a source of strength. In his essay, Catching the Light: Reclaiming Opera as a Trans Arab, Zeyn Joukhadar writes about rediscovering the joy of performance in opera, how musical expression holds a space for transcendence. Amrou Al-Kadhi, in their piece, You Made Me Your Monster, reflects on the transgressive power of drag as a form of self-expression and a way of challenging their audiences. Performance anxiety runs as an underlying theme across the pieces in the anthology, as writers unpick self-doubt from self-belief in the quest to gain agency over their own stories. Saleem Haddad's essay, Return to Beirut, finds both himself and the city changed, in a powerful exploration of the layers of performance of different selves that exist simultaneously. These simultaneous selves are wrenched apart in Mona Eltahawy's piece, The Decade of Saying All That I Could Not Say, as she describes the harm of performing her old self, and the way in which she buried that person as she claimed her own power.
Performance anxiety is a product of feeling that there is a benchmark to which you must be measured, but This Arab is Queer is a space where the anxiety around performativity becomes an opportunity for disruption and creativity. For Elias Jahshan, the editor of the anthology, it was important that queer Arabs shouldn't need to translate their experience, that the book would be a place to share a conversation without mediation. The interlocking doors are open, the conversation is flowing, walk with us.
Anbara Salam is a Palestinian-Lebanese-Scottish writer. She is the author of Things Bright and Beautiful (Fig Tree/Penguin, 2018) and Belladonna (Fig Tree/Penguin, 2020).
---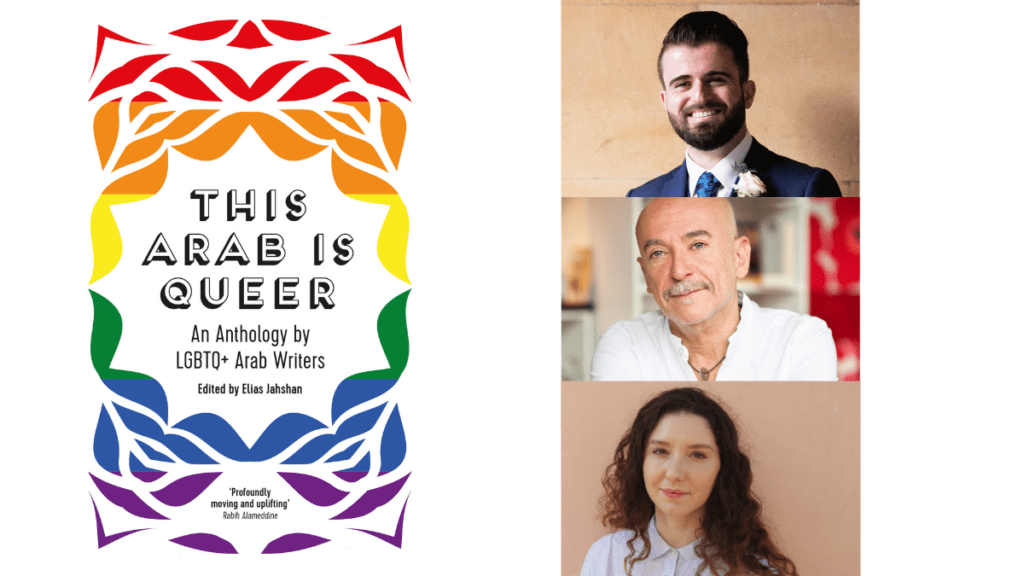 This Arab is Queer
6pm, Wednesday 16 November 2022
Lovelocks Coffee Shop, 27 Old Haymarket, Liverpool, L1 6ER
Book editor Elias Jahshan with essayists Madian Alijazeera and Anbara Salam for an evening of readings and lively chat. Chaired by LAAF's Creative Producer, Laura Marie Brown.
Book free tickets
Homotopia Festival runs 1st – 20th November 2022 across Liverpool. Check out the fantastic programme and book tickets here: www.homotopia.net/festival/
You can buy a copy of This Arab is Queer online. Published by Saqi Books, https://saqibooks.com/books/saqi/this-arab-is-queer/